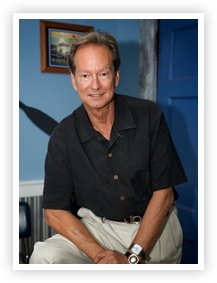 Jim Nored, DDS
Dr. Jim Nored is a general dentist currently practicing in Crosby. He was born outside of Forth Worth in Weatherford, TX, in 1946. He earned his Bachelor of Science degree in Chemistry before attending dental school at the University of Texas, Houston, from which he graduated with his Doctor of Dental Surgery degree in 1972. He continues his dental education yearly in order to stay up-to-date with advances in the dental field, and has received advanced training in implant dentistry, periodontics, oral surgery, and ClearCorrect™ orthodontics.
Dr. Nored started at Greenspoint Dental Center in the 1970s, and later sold that practice to a prosthodontist. Personal reassessment awakened a desire to reconnect with patients and friends. As a dentist, Dr. Nored is committed to providing comprehensive, safe, biological, and metal-free general dentistry.
Dr. Nored is a member of several professional dental organizations, including the:
Travel opens doorways to the ideas of naturally-based medicine and wellness. "I have benefited from the input of a generation of healers," Dr. Nored says. Around the world people have used plants and natural medicine to survive.  Modern medicine has taken a big bite out of our knowledge of local medicine and natural healing. We cling to our historical medical roots.
In his spare time, Dr. Nored enjoys tennis, bicycling, sailing and skiing. He is a survivor of kidney cancer (1995).
Hale McDaniel, DDS
Dr. Hale McDaniel completed her undergraduate studies at Texas A&M University before attending dental school at the University of Oklahoma, from which she graduated in 1994. She continues his dental education regularly, completing a minimum of 20 hours each year in order to stay on top of developments in dental treatments. She has also completed an Advanced Education in General Dentistry residency. As a dentist, Dr. McDaniel is committed to educating her patients and providing treatments for dental diseases and other problems so that her patients may enjoy their teeth and smiles for longer.
Dr. McDaniel has three daughters. Her eldest daughter is married and currently attending physical therapy school. Her middle daughter is in nursing school, and her youngest daughter is a sophomore. She has been taking excellent care of our patients here in Crosby since August 2017.